RC boats and accessories
More about category
the RC boat and other accessories includes both complete sets RC boat, ie compiled a ship that is out of the box ready to use, as well as construction of ships of various levels (from the additional installation of the RC system to the need complete assembly RC boats including obšívkového planking). In separate sections, see specific RC craft - submarines and sailboat (with an auxiliary engine or not). In the last category you will find a variety of accessories (lifebuoys, sailors, ...) and accessories (shafts, rudders).
Vodní chladič 2040 pro řadu 130,
HW321300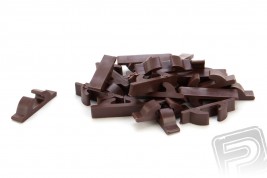 Hawse Pipe 12 mm (25pcs).
3BB8041
21015
1:150 YAMATO Battle Ship.
21018
1:100 WP ARLEIGH BURKE Class Destroyer.
21014
The HMS Blue Bell was a Flower class corvette that saw service in the Royal Navy during the Second World War.
2200
1:200 Aircraft Carrier USS NIMITZ. The USS Nimitz (CVN-68) is the first aircraft carrier of the United States Navy Nimitz class that bears its name.
2212