RC helicopters and spare parts
More about category
the RC Helicopter on the remote control and accessories you will find everything concerning helicopter models. The basis of the "classical" single- RC helicopters (both fully assembled and require assembly or retrofitting electronics only). Another option is a double-rotor RC helicopter, providing greater stability (suitable for beginners). You will find also kvadrocoptéry, or generally RC helicopters with multiple rotors. If you already have a RC helicopter, you will appreciate the option to purchase additional accessories (gyro ...) or tunningové and spare parts (RC kits, frames, cabs, electronics and more ...).
Spare parts for Helicopter EFly "Police"
HP1891017
F647-006
Náhradní díl pro vrtulníček Thunder.
HP1861017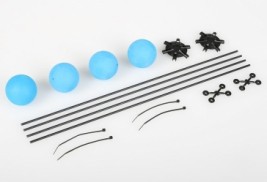 Essential tool especially for novice pilots of small RC helicopters.
8KM8564
Bílé rotorové listy pro RC model vrtulníku na dálkové ovládání Blade 230S. Vyrobeno z plastu.
BLH1503
Rotorové listy bílé pro RC model vrtulníku Blade 200 SR X.
BLH2001
F645-006 - Rotor Blades (1 pair).
F645-006
Spare parts for microhelicopters Blade 120 SR
BLH3116
Main rotor blades for the Blade CP Nano X black for aerobatic flying.
BLH3310
Blade Scout: Rotorové listy horní (1 pár).
BLH2721